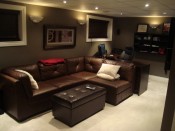 So of course it's been a long time since I posted, but I figured I'd finally put up the pictures of the completed basement. Even these are now a few months old, but all that's really changed is my desk isn't quite as neat. All in all, it's worked out great, and we spend a good deal of time here. With just the two of us living here, it's very functional as an office / TV room. Our cat also spends a lot of time sleeping on the couch, sitting in the windows, or otherwise running around causing mayhem.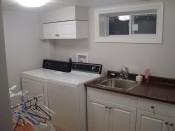 The laundry room is also quite functional, and provides enough space to dry clothes, have a few laundry baskets, and still have lots of room to move around.
Update: Before/after pics.