I haven't been posting updates very regularly, but I have been quite busy working on my house.
One of the non-basement projects I've (half) completed is the front hall closet. For some reason, I didn't take a before photo, but basically it had a bi-fold door that went all the way to the ceiling, 8′ high, with no header.
It also didn't open very smoothly, which I later figured out was because it was mounted to an old floor underneath the carpet, so it didn't really have room for the carpet at the bottom. Needless to say, it looked quite dated. The picture to the right is the closet in my bedroom, which is the same style (and also will eventually be changed, once we get to that room).
I cut off the carpet in the main entrance (which my cat found very intriguing), and pulled it all up, revealing the 70's stick-on tiles in all their glory. Looking underneath the heat vents in my living and dining rooms, the whole area was done in these tiles at one point. I can't tell if the kitchen was or not – it was re-done with laminate a few years ago.
The only real way to take them out was to pull up the 1⁄4″ plywood they were glued to, which was overlaid on the plywood subfloor. So, that is exactly what I did. What we are planning on doing is putting down another layer of plywood or cement board, and then putting ceramic tiles on that.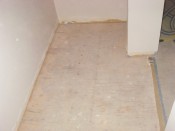 Now, back to the closet itself. We decided that what we'd like is to put a sliding (bypass) mirror door. It's only 36″ wide, so it requires a special order, but it is still big enough to be useful. The sliding door seems like the best option here – the front entrance is small, so it doesn't take up precious extra space to swing out, and the mirror will both make the area seem a bit bigger, and make my girlfriend happy that there is one last place to check her hair etc before leaving the house.
Standard closet doors are 80″, so I filled in the space above that. I've hung drywall before, but I've never tried mudding and taping anything bigger than a light switch-sized hole. Overall, I'm fairly happy with it, but I am definitely not going to try and be a professional drywaller anytime soon.
What's actually kind of annoying is the existing wall on the right is not straight. On such a short wall, it didn't really matter, but now that I'm extending it, it does. If I were to make my new header follow the same angle, it would be clearly and terribly crooked looking. Instead, I opted to make my new header straight, and so when you look at it from the side the other wall is clearly a bit crooked. Hopefully it's just something I notice (and now anyone that reads this), but it is glaringly obvious to me.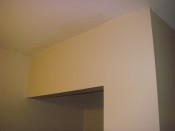 The finished header, painted. The ceiling still needs to be touched up again, but without the camera flash you actually can't really notice the drywall mud along the ceiling.