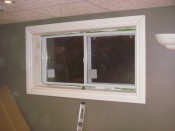 Lately, I've spent a lot of boring time painting (though Jocelyn has helped me a lot with painting), cutting, installing, and wood filling trim (and still have some more to go). I've been coming to the conclusion that I am not a fan of finishing work.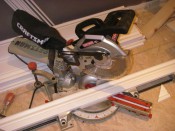 I've been borrowing Jocelyn's dad's mitre saw almost since I started this project, but I've used it so much that I decided it was time to buy my own. After looking at several, I settled on a Craftsman 10″ sliding compound mitre saw. There were three of these that almost looked identical, but differed in price by about $130. The people at Sears could not tell me the difference, other than one, which was ~$250 CDN, has arms that extend out from the base, so that's what I ended up buying. So far, I've been quite happy with it and would recommend it without hesitation. The laser is pretty accurate, and the positive miter stops make doing the different angles for trim very easy.
Update: Part 2 – Finishing baseboard.