I finished up all the jacks for the media wiring – the cables for which I ran back in March (see Media Wiring, Part 1.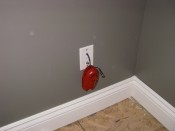 I also finished terminating the network cables for the basement (10 drops). Since I was rushing to get them in before the insulation was done, I didn't actually label any of the wires. Luckily, I have a wire tracer, which is an extremely handy tool for these sorts of situations. Plug in the base unit to the jack you want to find..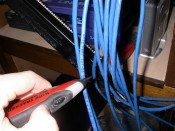 .. and then the indicator will make noise when you find the corresponding cable in your bundle.
I punched these cables down to the patch panel in the makeshift relay rack in my crawlspace.
It's almost a shame I'll have furniture hiding everything from view..