Plumbing fixtures installed
In the laundry room, I used some ready-to-assemble cabinets from Home Depot, and some off-the-shelf laminate counter top from Rona that I had them cut at the store.
The sink came with a template, so I traced that onto the countertop with a sharpie, use a hole saw on the edge to start it off, and then cut out the shape with a jigsaw.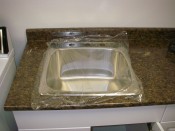 Almost constantly, the box stores have different promotions going on (eg, I bought the cabinets during a 10% off all kitchen cabinets sale), and I've tried to take advantage of these as much as I can. I went to get a sink during one such event, but it was out of stock, and I was at the point I actually needed one, so I ended up buying a much more expensive 10″ deep sink (most are 7″), but in hindsight this is a much better sink to use for the laundry room so I'm actually glad it worked out this way.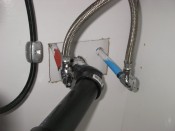 While doing the final hookups, I was again reminded why I like PEX so much. It took me maybe a bit more thna 5 minutes to crimp on all the valves, and probably 45 minutes driving time for the $8 tool rental (ok that slightly annoys me, but it likely would have taken longer to it with copper, especially when you factor in draining basically the entire house, which is unnecessary with PEX). All the vales are PEX 1⁄4 turn stainless ball vales, except the toilet which is a more traditional valve which looks a bit nicer.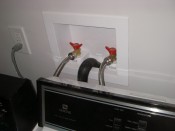 On the laundry room, it's probably worth showing the in-wall washing machine hookup, which worked out quite nicely. Now that I have the flooring in, I replaced the old rubber hoses with some stainless braided hoses. You can see an old photo with the plumbing exposed here.
I bought everything for the bathroom on sale almost a year ago, and have been storing it in the crawlspace since then. As it turns out I've seen the cabinet on sale since, but it was still more expensive than what I paid. The toilet is a dual-flush, and otherwise your typical round toilet.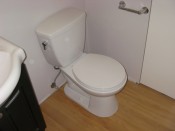 Having the small cabinet (24″ x 12″) works well – the sink is large enough, but with the cabinet itself being smaller, it gives a bit more floor space, and makes the room feel a bit bigger. Since the bathroom is only 5×5′, this is important. I should also mention that Jocelyn has helped with the bathroom a lot: picking out and installing the toilet paper roll, mirror, and toilet seat.
Check out an old post on doing the bathroom rough-in for details of all the plumbing.