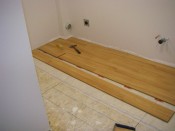 I put laminate flooring in the laundry and bathrooms, because it's relatively inexpensive and easy to maintain. Though I've never installed it before, it's pretty straight-forward (and as such, I didn't take very many pictures, I'm realizing now).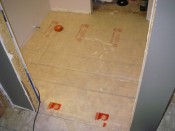 I put a basic foam underlay in first. Even though this is a basement, I already have a sub-floor that acts as a vapour/moisture-barrier, so I didn't need the fancier (and more expensive) underlay that also does those jobs. If you are installing laminate floor directly on the slab, there are some neat products out there.
I started on one side of the room, and used a compound miter saw to cut the boards to length. With only a 10″ non-sliding saw, I could only cut about 75% of the way through a board, and then had to turn it around to make the rest of the cut, but this was not a big deal at all. I used a table saw I'm borrowing from a friend to cut the final pieces length-wise on the opposite wall from where I started.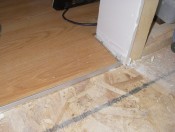 For the closet in the bathroom, I used an 8mm tile edge strip. This gives a nice metal edge, which just slightly overlaps the laminate and protects the edge of the laminate.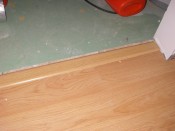 The laminate ended about halfway through the laundry room closet door, which wasn't quite enough. I only needed another inch or so, which wouldn't have been very strong with laminate. I used a special transition strip to end it, which matches almost perfectly, and made up the extra distance.
For the transition from the laundry room and bathrooms to the rest of the basement (which will be carpet) I'll likely be using a vinyl strip that snaps into a metal track attached to the floor (I can't remember the name, but it's very common). The strips have metal teeth that the carpet attaches to, and don't go underneath the laminate at all, so I'll install them later with the carpet, when I know what color it will be.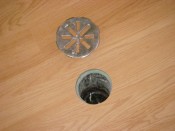 There is a floor drain in the laundry room, which I wanted to provide access to. I used a 3″ holesaw and some careful measurements to cut a hole for it, and right now I'm just using a standard floor drain cover. It doesn't look bad, but I'd have no problems using something else for the cover if I can find something that would work.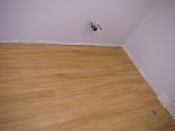 It's definitely starting to look closed to finished now.