Starting to renovate the basement
My girlfriend and I just bought a house. It's a bit older – 32 years old, to be exact – and it shows, in a few places. My first big project is to renovate the basement and turn it into an office / rec-room area, and a laundry room. I figured it would be interesting to some people if I blogged, plus it is some extra motivation for me to get it done in a timely basis.
The basement is not really finished. In the main area, there is wood paneling, acoustic tile ceiling, and painted cement floor. The laundry area is just bare concrete walls, and has all the old cabinets from the original kitchen.
So the first thing I did was rip the ceiling, panels and most of the old cabinets down.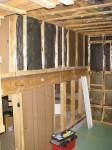 There is a crawlspace under half of the house, and the only paneling I left was for the door to the crawlspace, as I believe the door will fall apart without it. I will eventually figure out something better.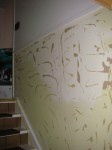 There was some kind of flower wallpaper paneling around the stairs (think wood paneling, but flower wallpaper instead of the faux-wood). This was glued to the drywall, so removing it left chunks of glue, and missing sections of drywall. There's probably a way to remove it that wouldn't have done this, but too late now. I just have to decide if it's easier to sand and plaster, or just put up new drywall..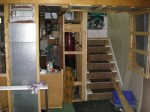 I also started taking down the wall between the main area and the laundry room, but ran into a bit of an issue with a cold-air return vent. It goes up beside the main beam, runs through the joists over top of the main air duct, and then down into the main cold air return duct. I think I'm just going to try capping it off, and then adding a new cold-air return on the other side of the basement.