While I was in the process of updating the front entrance, my wife and I started talking about if it made sense to do another job we had been thinking of – tearing down the wall between the kitchen and dining room, and putting in some new cabinets and a breakfast bar. My reasoning was if I was doing this at the same time, it would be enough work at once that I could justify bringing in a pro to finish the drywall for me (yes, I hate it that much). This started us into another conversation about how much more work and money we wanted to put into this house, and how much longer we'd stay. When we bought the house, we had originally figured it would be about 5 years, and now it's been 4, and we were feeling this might be a good time to move.
We started looking around to see what was on the market, going to a couple open houses, and even looking at building a new house. We had our real estate agent take us out and show us a few houses, and actually saw one that we really liked. We decided to make a conditional offer on it.. and it was accepted! This was great – although as part of the conditions we had 2 weeks to sell our house, and our front entrance was still a construction zone. When our agents came over on that Friday, I had a plastic sheet up around the front as I had only just put on the first coat of mud and was getting ready to sand.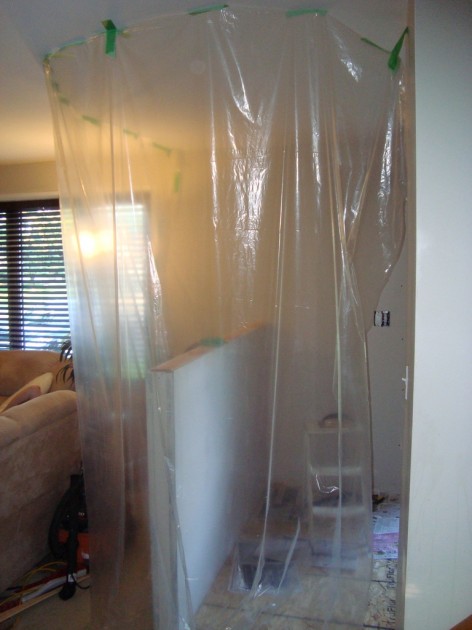 Luckily this was a long weekend, so we went into high-gear, and by Monday night I managed to finish the entrance, as well as we got the rest of the house in a respectable state and ready to be photographed and have people walking through. The next day, we had multiple offers competing, and accepted one that night. We had the deal finalized less than 48 hours after putting the house on the market, and so huge thanks to our agents Della and Dave Cook for that!

So while I'm happy to have the entrance done, we've only had a bit over a month to enjoy it — we're actually moving in a couple days from now. There are already a few things I want to do on the new place, and the basement is unfinished a blank slate, so expect more posts in the next few months!

For now, we've put a lot of work into this house and it's sad to say goodbye, but also exciting to start fresh. Hopefully the new owners will enjoy this house as much as we have.